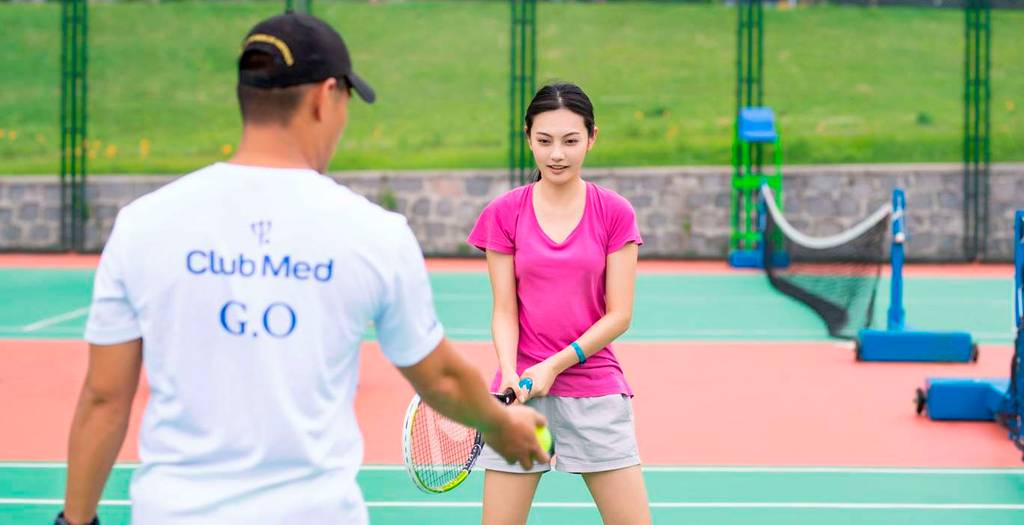 Club Med offers group beginner/refresher courses that can be included in your package. You can also book one-on-one courses for an extra cost.
If you plan to perfect your aces, opt for a resort with tennis courts such as the Club Med Cancun and the Marrakech La Palmeraie Resorts.
For golf fans, we recommend the facilities in Opio in Provence (France), Da Balaia (Portugal), Bintan Island (Indonesia) and Agadir (Morocco).
For horse riding*, try La Palmyre. Whether you fancy a quiet trek or a good gallop, the choice is there.
Skiers and winter sports fans will love the resorts in the French, Swiss and Italian Alps, as well as the slopes in China, Japan and Canada.
If none of the above fit the bill, there are plenty of other resorts with land sport facilities. Enjoy some altitude with a summer climb up lush mountains in Europe and Asia. Get off the beaten track with some mountain biking. Explore natural landscapes and get some fresh air by going on hikes.
And, if you fancy some acrobatic wizardry, Club Med CREACTIVE by Cirque du Soleil will give you all the thrills you need. Circus activities take centre stage at Club Med Punta Cana and Opio: enter the ring under the watchful eyes of the G.C®s, (Gentils Circassiens) team, who all trained with Cirque du Soleil. Up your adrenalin on a flying trapeze, practise somersaults on a trampoline, enjoy the fluidity of aerial acrobatics, loop the loop as you bungee dance... Have a blast with your family.
*At extra cost